Today's guest is celebrating the release of the final book in her Between Trilogy, THE NOTHING. Kerry Schafer joins us to talk about finishing up this series, and what's coming up for her. (And… check the end of the interview for info about an amazing "real world fantasy location"!)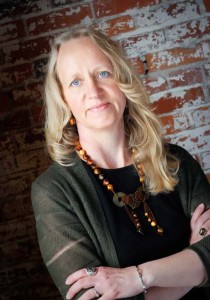 The third book in the Between trilogy, THE NOTHING, just released yesterday, congratulations! Are you able to relax and enjoy a little down time? Do you have some kind of "release day" celebration?
Relax? What is this word? What does it mean? I don't think it's in the Glossary of Kerry's Life, to tell you the truth. Nope. I'm still busy working on getting rewards out to my lovely Kickstarter backers. Plus, I have a new series coming out with Diversion Books and I'm hard at work on another novel in a whole new genre for me.  Plus the day job. I did have a little Facebook Party to celebrate the release.
For anyone who's not familiar with the series, can you give us a little introduction to the story and the characters?
Sure. The Main Character is a woman named Vivian, who wants to live a quiet life as an ER doctor, but destiny has other plans. She is gifted (or afflicted) with three special qualities. She is a Dreamshifter, which allows her to travel through Dreamworlds and also into the place Between dreaming and waking. She has dragon blood and can shift into a dragon. And she is a descendent of the Sorcieri and needs to come to terms with what that means. Her lover is Zee, a bookstore owner who is a dragon slayer in the Dreamworlds and Between. Her companion animal is a dream penguin named Poe.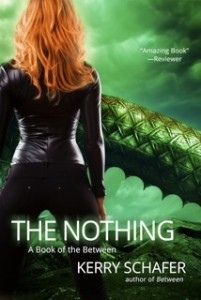 In the Nothing, the third and final book of the trilogy, Vivian and Zee travel through the Between trying to stop the evil Dragon Queen Aidan from her plan to destroy all of the Dreamworlds – and all of the dreamers along with them.
I hear we'll be getting some paranormal mystery from you!! What should we expect from DEAD BEFORE DYING?
DEAD BEFORE DYING features Maureen, who is hands down my favorite of any character I've written. She's tough, stubborn, and turning sixty. Her husband wants a divorce, she's been wounded in action, and the Special Events unit she's been working for wants to put her out to pasture. So she's forced to take on an undercover assignment in a retirement home where she expects monotony and old people. What she gets are dead bodies, a blood chilling paranormal creature, and the greatest challenge of her career so far.
What was the most interesting thing you discovered while researching your most recent book?
While writing DEAD BEFORE DYING, I'm pretty sure Homeland Security started watching me. I was fascinated by secret government installations and activities. There are some pretty hair raising experiments out there –  things like deliberately exposing citizens to diseases, radiation, and other hazardous conditions without their knowledge or consent. I also spent time researching homes for unwed mothers. Well into the twentieth century, young women were coerced into adopting out their babies. There were a lot of deaths of both babies and mothers.
Have you ever written yourself "into a corner" where the circumstances necessary to continue your current path violate the rules of your world building? How do you handle that situation?
I am always and forever writing myself into corners. I'm not so good with the planning. Even when I do sit down and create an outline of sorts and try to plot ahead, I always stray away from the plan to follow some sort of wild thought creature. So far, I've always managed to find a way out. And I think this actually makes for better surprise moments in my books. For example in Dead Before Dying I didn't really know for sure who some of the bad people were until the end. I figure, if I'm surprised, readers will be surprised as well.
Is anyone is your story "safe"? Are "beloved" characters guaranteed to make it through the end of the book/series?
I love happy endings. So the answer is that I will try to keep characters safe. But if  the story calls for a death, then I will acknowledge that reality. There was one death in The Nothing that I didn't plan or see coming. I got to the point in the story and said, "Oh. Dear. I'm so sorry." So I guess I'm saying there are no guarantees.
What's one thing you know about your main character(s) that would surprise your readers to know about them?
Poe sees the future. But since he can't talk, he can't tell anybody what he sees.
Many of the same driving forces motivate both "heroes" and "villains" in a story. Is there any circumstance in your story where the tables could turn and the lines blur? How many "degrees of separation" do your antagonist and protagonist really have?
Well, I've tried to give Aidan a few redeeming qualities, but honestly – she's pretty much just evil. I do blur the lines a little with my protagonists. Vivian and Zee are faced with some harsh decisions in The Nothing. Both have to commit acts that go against their conscience and their will, because the alternative is something even worse.
Do you have a personal "work rider"? Do you need M&M's handy? Certain music playing? A favorite cushion? What do you HAVE to have in order to write?
Coffee. Seriously. Coffee, coffee, and more coffee. My favorite writing music is anything by Mark Knopfler or Nora Jones. But there's nothing that I really HAVE to have in order to write. Some days, these things are not available. Writing has to happen anyway.
Quick answer:
Facebook or Twitter – These days, Facebook. Used to be Twitter
Cake or Ice Cream – Both. But not together.
Marvel or DC – Marvel
Summer or Winter – Spring. I'm contrary that way.
Beatles or Rolling Stones – Beatles
What song do you sing like a rockstar when you're alone in your car?
Anything that comes on that I like and know some of the words to. Love to sing in the car
Have you ever been to any of the Natural or Man-Made Wonders of the World? If so, which ones? If not, which would you like to visit?
I've been to the Grand Canyon. I want to visit all of them, but what I really want to see is this huge underground cave I read an article about. There are places where light shines through and trees and plants grown down there. It's like this incredible real world fantasy location. I really want to go there.
________________________________
HUGE thanks to Kerry for taking time during her busy release week to chat with us. I've done a little digging, and I think I've found the cave she mentioned. It's called Son Doong Cave in Vietnam, and it's truly amazing… check it out, here. (Image below via DarianCulbert.com.)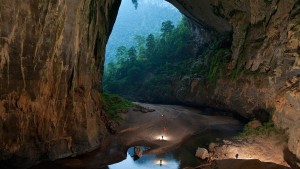 You can find all the info about Kerry's Between series at her website, or you can follow her on her social media (Facebook and Twitter). And you can purchase THE NOTHING at online retailers including Barnes & Noble and Amazon.