I'm excited today to welcome Jennifer Estep, one of my favorite authors, to the blog to celebrate the release of The Spider, the new Gin Blanco book in the Elemental Assassins series. She was kind enough to answer a few questions for me. First off, the information about the book. Then, the interview.
How did I end up in a career where I always have blood on my hands? Well, let me tell you a story about an assassin who thought she could do no wrong. . . . 
Ten years ago. A blistering hot August night. I remember like it was yesterday. The night I, Gin Blanco, truly became the Spider. Killing people is what I do best, especially now that I've honed my Ice and Stone magic. But back then, I had yet to learn one very important rule: arrogance will get you, every single time. 
This particular job seemed simple: murder a crooked building contractor with ties to ruthless Fire elemental Mab Monroe. My mentor, Fletcher Lane, had some misgivings, but I was certain that I had the situation under control . . . right up until I exposed my weaknesses to a merciless opponent who exploited every single one of them. There's a reason assassins aren't supposed to feel anything. Luckily, a knife to the heart can fix that problem, especially when I'm the one wielding it. . . .
Amazon: https://tinyurl.com/ka2nf8z
Barnes & Noble: https://tinyurl.com/qf3kfop
Books-A-Million: https://tinyurl.com/oh39r4c
iTunes: https://tinyurl.com/ld6odgn
Kobo: https://tinyurl.com/odwowov
Audible: https://tinyurl.com/oxbqwwn 
_____________________
Alex: Welcome, Jennifer! Please tell readers about your Elemental Assassin urban fantasy series.
JE: Thanks for hosting me on your blog. I appreciate it.
I write the Elemental Assassin urban fantasy series for Pocket Books. The books focus on Gin Blanco, an assassin codenamed the Spider who can control the elements of Ice and Stone. When she's not busy killing people and righting wrongs, Gin runs a barbecue restaurant called the Pork Pit in the fictional Southern metropolis of Ashland. The city is also home to giants, dwarves, vampires, and elementals – Air, Fire, Ice, and Stone.
Alex: The latest book in the series is THE SPIDER. Can you tell us a little about it?
JE: THE SPIDER is the 10th book in my Elemental Assassin series. It's a little different in that it is a prequel book set 10 years before the events of SPIDER'S BITE, the first book in the series. So THE SPIDER is sort of an origin story about how Gin truly became an assassin.
It was really fun for me to write the book and show how Gin "meets" some of the secondary characters for the first time. THE SPIDER also includes a lot of shout-outs to people and places in the books for fans of the series, and I hope that new readers will enjoy this look back into Gin's past as well.
Alex: That sounds really fun. What appeals to you about the fantasy genre in general?
JE: I've always loved fantasy books, movies, TV shows, etc. I just really like the idea of people having these magical powers, going on epic adventures, and using their abilities for good.
Alex: What inspired you to write the Elemental Assassin series?
JE: I've always enjoyed reading stories about assassins, especially in fantasy books. Assassins can be everything from cold to calculating to crazy, and it seems like there are a lot of different stories you can tell with them. One day, I thought it would be fun to write my own assassin character with my own magic and world building, so that was sort of the beginning of the series.
Alex: What are some of your favorite fantasy books/authors and why?
JE: When I was in high school, I discovered epic fantasy, so I read a lot of books by authors like David Eddings and Terry Brooks. Today, I read all kinds of fantasy – epic, urban, young adult. Some fantasy authors that I enjoy reading are Alex Bledsoe, Scott Lynch, Maria V. Snyder, and many others. I also really enjoy fairy tale retellings, like Beauty by Robin McKinley.
Alex: I love Robin McKinley! Guess we have a lot in common. Have you always wanted to be a writer? What got you started on your writing journey?
JE: My mom used to take me to the library every Saturday when I was a kid. So that's how I fell in love with reading and books in the first place. I think that love of reading and books is one of the things that led me to want to write my own book with my own characters and tell the story that I wanted to tell. I wrote my first book one summer during college, and I've been writing ever since.
Alex: What's next for you? Will there be more books in the Elemental Assassin series?
JE: As of right now, there will be at least 12 books in my Elemental Assassin series. POISON PROMISE, the 11th book,  is set to be published on July 22, 2014, with the 12th book set to be published in December 2014. I'm also mulling over some ideas for new books.
Happy reading, everyone!
Alex: Thanks again for being on the blog, Jennifer, and happy book birthday!
__________________________________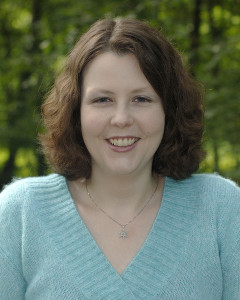 BIO INFO:
Jennifer Estep is a New York Times bestselling author, prowling the streets of her imagination in search of her next fantasy idea. The Spider, the 10th book in her Elemental Assassin urban fantasy series, will be released on Dec. 24. For more information, visit www.jenniferestep.com or follow Jennifer on Facebook, Twitter, and Goodreads.
JENNIFER'S SOCIAL MEDIA LINKS: 
Website: https://www.jenniferestep.com/
Blog: https://www.jenniferestep.com/blog/
Facebook: https://www.facebook.com/JenniferEstepAuthor?fref=ts
Twitter: https://www.twitter.com/Jennifer_Estep  (@Jennifer_Estep)
Goodreads: https://www.goodreads.com/author/show/580315.Jennifer_Estep
__________________________________
Jennifer has graciously offered a free copy of The Spider to one lucky reader (US shipping only). Leave a comment on the post to enter! I'll notify the winner via email during the highly-imprecise time period When I Get to It Over the Holidays. Likely this Sunday.