Hi All,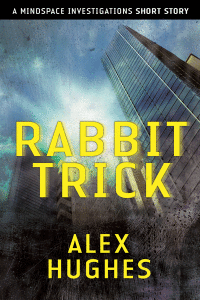 Just to let everyone know, I've lowered the price of Rabbit Trick, my short story in the Mindspace Investigations series, to just $0.99 on Amazon and Smashwords. The other retailers are in process, but should be at the same level within the week.
Here's all the info:
Synopsis:
OPEN MIND
When the cops call me in the middle of the night, I know it's bad. One of their own is dead, strangled in her car by a professional killer, and it's up to me, telepath consultant extraordinaire, to pull the rabbit out of my hat and solve the case. Only this time I'm not so sure I can.
Homicide Detective Isabella Cherabino is breathing down my neck. The dead cop's partner is too. And now, the worst—there was a five-year-old kid in the car, a kid no one can find.
Reviews:
"Great urban fantasy crime story." Sharon Stogner, I Smell Sheep book blogger
"I love Mindspace–the stories are fantastically fun to read, well-crafted, and well-plotted. They pull you in and keep you engaged from start to finish." Book Person reviewer
Amazon:
Smashwords:
https://www.smashwords.com/books/view/415753
Thanks for reading!
Alex