Hi all,
I am thrilled to announce that a new short story in Adam's world, "Rabbit Trick," is now available to purchase. It's about 9000 words and has two bonus short stories in other worlds that you will also enjoy.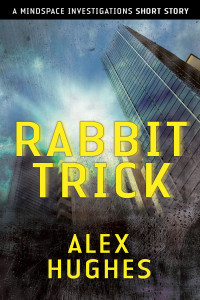 Here's the info:
______
Open Mind
When the cops call me in the middle of the night, I know it's bad. One of their own is dead, strangled in her car by a professional killer, and it's up to me, telepath consultant extraordinaire, to pull the rabbit out of my hat and solve the case. Only this time I'm not so sure I can.
Homicide Detective Isabella Cherabino is breathing down my neck. The dead cop's partner is too. And now, the worst—there was a five-year-old kid in the car, a kid no one can find. 
Note from the author: "Rabbit Trick" takes place before the events of Clean, so the hero intentionally remains nameless. 
———
The story is now available on Kindle and in most formats on Smashwords now, and will be available on Apple, Barnes & Noble, Kobo, Diesel, etc. in the next few days. I'll post links here as I have them.
[Update March 18th: we're now up on Apple's iBookstore, though I can't figure out how to link to it yet. Still waiting on Kobo. Exciting times as it all comes together!]
As a special thank-you to my blog readers I've arranged for a coupon for half price (99 cents) on Smashwords) until October 2014. Use coupon code LN76Q at checkout.