Recently I went to Savannah for an incredible research trip for MSI Book Four (Vacant), and I can't wait to tell you about it. I ended up staying with family friends, who unexpectedly knew *everyone.*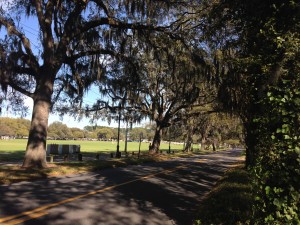 Day One, we spent touring the city. I picked out a place for the judge's house, where a large portion of the novel happens. I saw downtown, and walked up and down River Street until I was tired. Of course, Ms. Sherry, our family friend, despite being my mother's age outpaced me by miles.
We stopped by an old theater, and saw the tunnels hidden in a restaurant as well as the back alleys behind River Street. Lots of great stuff there. I was insanely inspired by all the houses, neighborhoods, and the lovely history everywhere. Then dinner with the family and falling into bed, exhausted.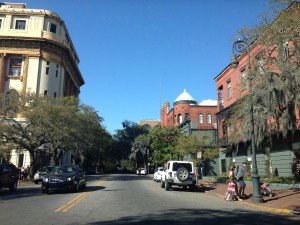 Day Two, I wanted to get up and go sit in a jury trial at the courthouse. Ms. Sherry decided to tag along. I'd emailed ahead and been told it was perfectly fine, but when we showed up, security pulled us aside and asked us what we were doing there. I'd never been so glad in my life to have someone else there! While I was doing my best impression of deer in headlights, Ms. Sherry used her gift of gab to introduce me as an author and in about forty-five seconds, everybody liked us. I just had to smile, and we were in. Literally. They introduced us to the judge and we sat all by our lonesomes in the small bench in the small courtroom, as the trial began its last day.
Trials are a great deal slower than they are on TV, and they take the jury out of the room a lot to discuss minutia. What they can say. What they can't. Parts of it were very boring, and they brought in witnesses that even the judge said later were just wasted time. I was surprised to learn that judges have to make so many split-second judgment calls on the bench. It was interesting to watch.
The case itself was also interesting, and as the day went on, the drama developed. I was sure the defendants had done it. Then certain they had not. Then changed my mind again. Pieces of evidence were referenced that I hadn't seen, and witnesses came and went. I could see why this stuff was made into TV dramas! Neither the prosecution's nor the defense's account of events made sense of everything in front of us, and I kept trying to figure out who was lying. In the end, maybe everyone was.
As the day wore on, both friends of the defendant and the victim arrived with high emotions, all sitting in those small benches at the back of the room. But the trial wore on, and on. We'd arrived at 8:30 that morning, and left at 6:30 to make a dinner appointment. They were still talking, and both sets of families/friends were as tightly strung as harp chords. It was quite an experience, and I learned an awful lot.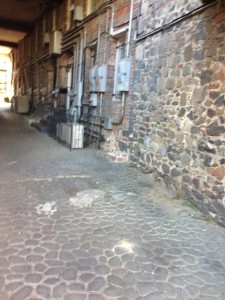 Day Three. Remember how I said the family friends know everybody? In the morning, I was lucky enough to get to talk to a detective in the forensic unit for Savannah's Metro Police. She talked about old cases that were public knowledge and showed me how to take a fingerprint. Incredibly cool! I was very inspired by her, and am playing with another (perhaps straight mystery) series set in Savannah with a forensics person a lot like her as a heroine. Hopefully the idea sprouts and grows into something fun 🙂
Then in the afternoon, I met with Ms. Sherry's son's college roommate, who, lo and behold, was a homicide detective at the police too. He was kind enough to answer general questions about how his job works and what it's like to be a detective in Savannah. Plus he pointed me to a few old cases from the 90s to look up online.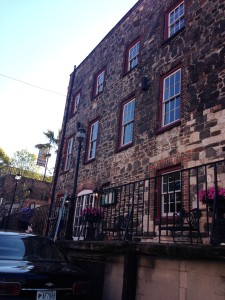 I was so blown away by all the help and support I found on my research trip. I am incredibly inspired. Savannah is a cool, cool place.