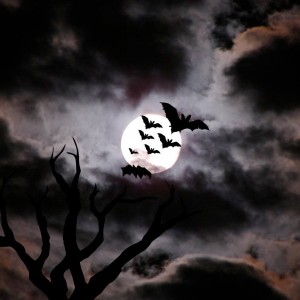 To celebrate Halloween, I'm posting an exclusive section of Vacant, the fourth Mindspace Investigations novel out December 2nd. One lucky person who comments below (or posts on Twitter including @ahugheswriter so I see you) will receive his/her choice of an audiobook in the series OR an *early* copy of Vacant when I receive it more than two weeks prior to publication date. So you'll want to make sure to comment or Tweet!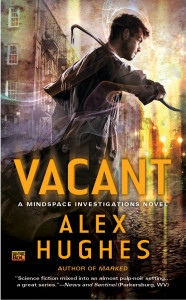 Make sure to keep reading after the excerpt for a list of other blogs to visit for spooky words and fun giveaways.
Happy Halloween!
Alex
___________
We drove through several streets in Savannah until we ended up at a long concrete box with bars on the window, what looked much more rough than the one and only gun shop and range Cherabino had taken me to a few months ago. One lone street light sputtered overhead, a half-dead biolumescent bush in a median in the cracked parking lot looking like it hadn't had any water in years.
The sign above the concrete front said Hard Knocks in harsh lettering, with a single painted gun shot hole, with a ragged edge.
Mendez and Jarrod went ahead, to introduce themselves to the gun shop owner; I collected myself, finally getting out once I was sure there was no minds around likely to be an issue for Tommy. The surroundings felt… too empty, actually. Much too empty, though I couldn't put my finger on any particular reason why.
My feet weren't used to dress shoes, and so the blisters of the day rubbed as I walked across the parking lot, low-level distracting pain. I'd had to learn to ignore much worse as part of my Guild training, so it wasn't a deal breaker. But I'd have to peel off the socks and treat the things so they didn't get infected later.
I felt Tommy's impatience a step behind me. And a sudden burst of emotion from Jarrod in Mindspace ahead, tamped down all too suddenly. I walked in the front door, which they'd already opened, and saw why.
Lying on the floor was someone I presumed was the gun shop owner, shot in the chest at least twice, blood bloomed on his shirt already drying into that funny brown-red, limps already stiffening in rigor mortis.
"I take it you did not expect a crime scene in here?" I asked Jarrod, blocking Tommy's view of the scene with my body. Just in time, felt like.
"Hey, I want to see," he said.
"No you don't," I said.
Jarrod sighed, and walked over to the wall where a phone hung.
__________________
Ah, murder and mayhem in the world of telepathy. Gotta love it.
Need more spooky reads & giveaways? Check out my fellow blog hop writers in the list below.
Lisa Alber – a copy of the Kilmoon mystery book and an Irish gift
Heather Webb – signed books or chocolate
Anna Lee Huber – giving away audiobooks for the Lady Darby Mysteries
Jennifer Delamere – advanced copy of "A Bride for the Season"
Kerry Schafer – signed copy of Wakeworld
Stacy Lee – advanced copy of Under the Painted Sky
Janet B Taylor – $15 Amazon gift card and some chocolate goodies
Hazel Gaynor – advanced copy of The Memory of Violets