I've seen many interview questions that ask, "If you could hang out with one of your characters for the day, what would you do?" It's an interesting question, because it makes you consider the people in your books as "friends", people you would ACTUALLY spend time with. This brings up the idea of what you like, and what they like, and what you might have in common. Something as simple as… what kind of music do they listen to? Do they enjoy a good, homemade lasagna? And maybe, as today's guest, author and beer aficionado,  Tee Morris shares about his characters, what kind of beer would they drink?
Two of a Kind: Beer Pairings in The Diamond Conspiracy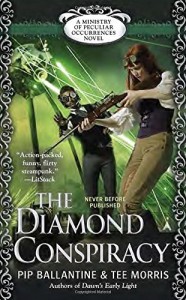 Our latest steampunk novel, The Diamond Conspiracy, has hit the bookshelves; and unlike the other adventures from The Ministry of Peculiar Occurrences, Wellington and Eliza share a grander stage through frequent check in's with the Ministry Seven (Eliza's street urchin informants), Agents Bruce Campbell and Brandon D. Hill, and even the assassin Sophia del Morte. Truly, The Diamond Conspiracy is an ensemble adventure; and it was over a flight of beers at Old Bust Head Brewery in Fauquier, Virginia, when author, beer blogger, and historical professional K.T. Bryski asked me "You ever wonder what your characters would drink?"
Beer pairings with my steampunk spies? Okay, I'm in.
Character: Eliza D. Braun
Beer Pairing: Smoked IPA
An agent from the farthest reaches of the Empire where women have the right to vote, where the "natives" co-exist with the "colonials," and where everyone speaks their mind frankly and honestly, Eliza goes against the standard norms at the home office in London, England and always leaves an impression that lingers with you. She is bold, powerful, and memorable; just like an exceptional India Pale Ale; but as this is Eliza we are talking about and she loves her incendiary devices, a Smoked IPA much like Old Bust Head's Virginia Hop Harvest Smoked IPA provides a perfect pairing.
Character: Wellington Thornhill Books, Esq.
Beer Pairing: Porter
A man of the manor born now serving at the Queen's pleasure, Wellington Books is a
walking analytical engine harboring an enigma. He is loyal to a fault, but struggles with an inner-darkness that scares even him in how deep it can get. That's why a Porter is best paired with Books. Porters are smooth, can offer a wide variety of flavors depending on how they are brewed, and grow darker in color the longer you enjoy them. Porters are always full of surprises and, like Books, are always immensely satisfying, much like Black Creek Historic Brewery's Porter.
Character: Doctor Basil Sound
Beer Pairing: Herbed/Spiced Beer
Doctor Basil Sound, director of the Ministry of Peculiar Occurrences, is a hard man to read. No matter the time or day or the conversation you may be having, Sound can at any time change his mood. Much like a spice beer, you may find yourself trying to noodle through exactly what you are experiencing. The specific beer that springs to mind in pairing with Doctor Sound is Dogfish Beer's Midas Touch, a complicated (but surprisingly delightful) combination of mead, wine, and beer.
Character: Brandon D. Hill
Beer Pairing: Lager
The lager is the working man's drink. This does not mean that the lager cannot be a refined brew for a sophisticated palate. That's the charm of a good lager. It can appeal and satisfy a wide range of gentlemen; so is also Brandon D. Hill a wide range of gentleman. Skilled in the fine art of monkey knife fighting, a brawler, and a skilled operative for the Ministry, Agent Hill is an individual of varied tastes. Lager would be Brandon's brew, and I can see him enjoying a pint of Devils Backbone Brewing Company's Vienna Lager after a day of rooftop chases and cloak-and-dagger dealings.
Character: Bruce Campbell
Beer Pairing: Ale
A very specific ale: Arrogant Bastard.
You are what you drink.
Character: Sophia del Morte
Beer Pairing: Stout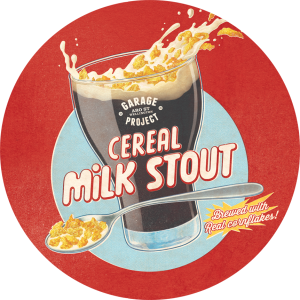 The Italian assassin that works in shadow and tends to be a thorn underneath Books' and Braun's figurative fingernail may not strike you as a stout drinker; but a good stout can catch you off-guard. With Garage Project's Cereal Milk Stout, it is easy to feel on the defensive, reading its ingredients and not knowing what to expect. When you take that first sip, though, you are completely off guard by its ingredients, its taste, and its brilliance. This brew from New Zealand is erotic as it is exotic in its smoothness and complexity, all under the thick darkness of a stout. You will never see this surprise coming.
Just like Sophia.
So there you are: a special flight of fantasy and fantastic. If you have never read any of the steampunk from my world (and feel free to sample it through the award-winning Tales from the Archives podcast on iTunes), you have a great idea of who some of its players are through this sampling; but what about your best pairings? If you're a fan of the Ministry, do you agree with these pairings or do you have a better beer to compliment the character? What about other characters from literature? What would you pair up with Sherlock Holmes? Victor Frankenstein? Captain Nemo? Share your favorite books and pair them up with your favorite brews in the comments below.
________________________________________
Tee Morris began his writing career with his 2002 historical epic fantasy, MOREVI The Chronicles of Rafe & Askana. In 2005 Tee took MOREVI into the then-unknown podosphere, making his novel the first book podcast in its entirety. That experience led to the founding of Podiobooks.com and collaborating with Evo Terra and Chuck Tomasi on Podcasting for Dummies. Phoenix Rising: A Ministry of Peculiar Occurrences Novel, co-written with his wife Pip Ballantine, was the first installment in the award-winning Ministry of Peculiar Occurrences series. With over thirty short stories from various authors, a role playing game, and three novels, the series is still forging ahead with the release of their fourth novel, The Diamond Conspiracy, now available in all formats.
When he is not writing, Tee enjoys life in Virginia alongside Pip, their daughter, and three incorrigible cats.