Today's "Nerdy" guest has a passion that I feel many of us share,  to some degree. In some tiny (or maybe NOT so tiny) nook or cranny of our homes/offices/attics… we've got them, we love them…  and today, author Jennifer Estep is going to share hers with us.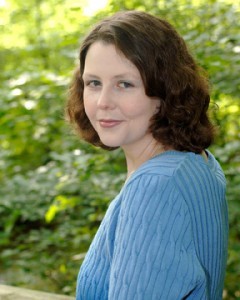 I've always loved superheroes.
The action, the adventure, the daring escapes, the dastardly villains—I enjoy them all, whether I'm watching a superhero movie or TV show or reading a graphic novel.
But I also really love superhero-themed items.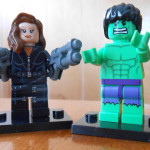 T-shirts, mugs, cups, keychains, magnets, figurines, calendars, ice-cube trays … I have all those things and more. Why? Well, I have to have to shirts to wear and cups to drink out of anyway, so I figure that I might as well have fun shirts and cups. Especially when I can get them with my favorite characters and some really cool designs.
Yes, I am a total geek this way. 🙂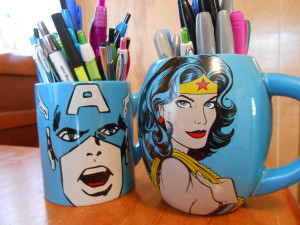 As a kid, I don't remember having a lot of superhero-themed items or them even being all that readily available. But with the recent popularity of all the Marvel movies and TV shows like Arrow and The Flash, you can find superhero-themed items at pretty much every store, even the grocery store, not to mention online at thousands and thousands of sites.
So where do I go when I need a superhero fix? One cool site is SuperHeroStuff.com, which has all kinds of superhero-themed items, from T-shirts to socks to shopping bags. If you like superheroes or want a T-shirt with a specific character on it, this is a good place to start your search.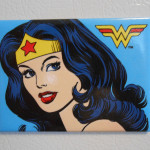 Redbubble.com is another good place to go for superhero-themed T-shirts, as well as just pop-culture characters in general. And then you have sites like Etsy and CafePress and too many more to name.
So if there's something out there that you want with a superhero on it, chances are that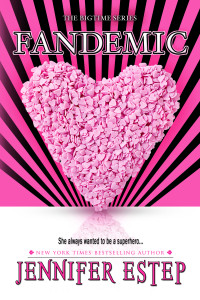 you can find it—and lots of other cool things to go along with it.
It's just a great time to be a superhero fan, and I'm enjoying every minute—and T-shirt—of it. J
What about you guys? Do you have superhero-themed items? Who is your favorite superhero?
---
Jennifer Estep is a New York Times and USA Today bestselling author prowling the streets of her imagination in search of her next fantasy idea.
Fandemic, the fifth book in her Bigtime superhero series, was released on June 2.

For more on Jennifer and her books, visit her at www.JenniferEstep.com or follow her on her blog,  Facebook, Goodreads, and Twitter at @Jennifer_Estep.