Today we're starting a month long celebration of the release of VACANT! We've got guest posts, interviews, excerpts, and reviews lined up to give everyone a bit more info about the genre, the story, and me! Below you'll find the complete tour schedule of blog hosts, and links to their sites.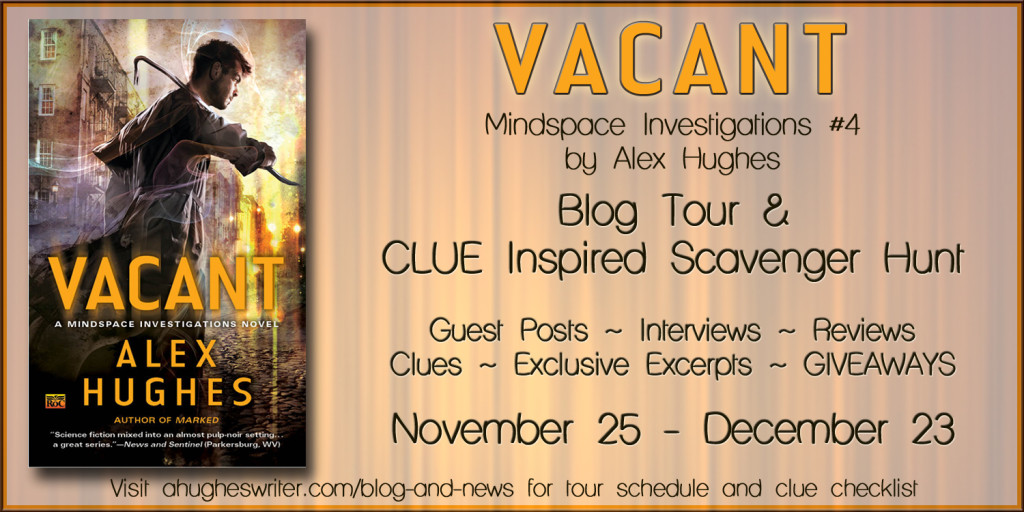 In addition to the posts, we're doing a CLUE like scavenger hunt. In case you haven't played CLUE… it's a mystery game, and the rules are super simple…
How To Play
Just like the classic game of CLUE, your job is to try to determine WHO committed a crime, in what SETTING, and with what WEAPON.
In our game to celebrate the release of VACANT, most of the clues will relate to the Mindspace Investigations world and characters.
At participating blog tour stops, you'll find clues, clearly marked, that you can cross those off your checklist. At the end of the blog tour, you should be able to see who/where/what the culprit is by which items on your list are remaining. to be clear, the clues you FIND are not going to be the winning guesses… you're trying to determine what is left at the end of the game.
Starting on December 20th, there will be a rafflecopter entry form here on this blog to make your guess. A grand prize winner will be chosen randomly from the correct entries after the blog tour is over, on December 24th. What's the prize, you ask?
Winner gets a $25 gift card to Barnes & Noble, a signed copy of Marked, and a character from a future book named after him/her.
Be sure to check each participating blog on the tour for interviews, guest posts, excerpts, reviews, individual blog prizes (all sorts of Mindspace Investigations goodies) and, of course, the clues!!
So, there you have it. You can right click and save the clue list below. Under the checklist is our schedule of blog tour hosts. Also… it's only a week until VACANT is available for everyone!! Thank you for your support thus far. I'm excited to see everyone's thoughts about the book, the blog tour, and the game.
Good Luck.
 Blog Tour Schedule:

Nov 25th – SF Signal
Nov 26th – I Smell Sheep
Nov 27th – Thanksgiving (US)
Nov 28th – Ashley's Random Blog
Dec 1st – What The Cat Read
– BookHounds
Dec 2nd – NicholasKaufmann.com
– Books Make Me Happy
Dec 3rd – Vampire Book Club
Dec 4th – Little Read Riding Hood
Dec 5th – Insane About Books
Dec 8th – BiblioFiend
Dec 9th – Smart Girls Love Sci/Fi & Paranormal Romance
Dec 10th – Reading Reality
Dec 11th – Short & Sweet Reviews
– Between The Lines
Dec 12th – That's What I'm Talking About
– Anna's Book Blog
Dec 15th – Tynga's Reviews
Dec 16th – Janice Hardy – Fiction University
Dec 17th – Suzanne Johnson – Preturnatura
– Amberkatze's Book Blog
Dec 18th – Fantasy Literature
– That's What I'm Talking About
Dec 19th – Books That Hook
– Literal Addiction
Dec 21st – Literary Escapism
Dec 22nd – Open Book Society
Dec 23rd – My Bookish Ways
December 2nd – VACANT (Mindspace Investigations, #4) releases!!
December 20th – Rafflecopter entry form posted and open for guesses.
December 24th – Scavenger Hunt closes at midnight – winner randomly chosen (from eligible entries) and announced. You must get ALL THREE GUESSES correct to be eligible to win. GOOD LUCK!!